Matuta Bzalava
Country and Follow Up Manager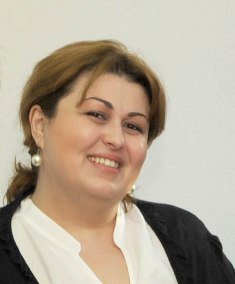 With more than eight years of extensive experience in health field, Matuta Bzhalava is one of the leading professionals in our global network. In addition to a Medical Degree from the Highest Medical School in Georgia, Matuta holds a Masters of Public Health degree with a major in Health Policy, Management and Behavior from New York State University at Albany. She is a successful alumna of Freedom Support Act Future Leaders Exchange Program (FLEX), Edmund S. Muskie Graduate Fellowship Program (MUSKIE) and Fogarty International for Advanced Education (Program of New York State Department of Health).
Matuta's professional career has been focused on various reproductive health programs of well-known international organizations: USAID, the United Nations Population Fund (UNFPA), AIDS Institute and Healthy Capital District Initiative in New York. Matuta is the principal author of the report New York Community Health Profile, 2009 and co-author of The New York State HIV/AIDS Epidemiological Profile, 2008.
At New Life Mexico Matuta overseas overall management of the branch , coordinates staff members and follows up with the intended parents. Matuta welcomes all intended patients to discuss their initial questions in details, introduces available programs and makes negotiations with all intended parents for the the final agreement.
All intended parents, who would like to carry out surrogacy or/and egg donation program in Mexico, are welcome to contact Matuta to get answers to their initial questions, clarify different aspects of our programs, to negotiate and sign the agreement with our organization. She is fluent in English, Russian and Georgian.
e-mail: matuta@newlifemexico.net
Mob: (+995 5 99) 49 16 04
Please note that Matuta is located at head office, therefore time zone for calling is 10 AM till
6 PM, Tbilisi, Georgia time ( GMT+ 4).