Our Donor Spent Time in LA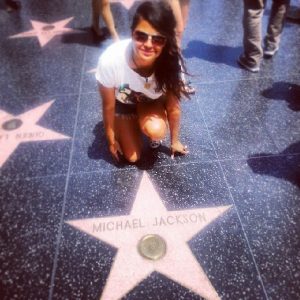 A donor was spending her leisurely time in LA. She intends to do sightseeing on all the days when she has no appointments at the clinic. Right in this picture, she is near Hollywood's walk of fame. She is posing near Michael Jackson's star because that has been a dream come true for her. She has also spent some time with the intended parents and she has been intimidated and overwhelmed by them. She has her retrieval the next day and New Life wishes her all the luck.
While she donates her egg, you might want a little more information on egg donation. Egg Donation is the process where a healthy female donates her ovum to another woman or a couple. This is a long process that starts out with the filling of forms and ends with a simple surgery for extraction of the egg from the egg donor and a baby eventually.
The first and foremost thing that someone needs to know about egg donation is that any healthy woman between the age of 18 and 35 can donate her eggs. The egg donor has to first go through a series of checkups and counseling to make sure that she is ready for egg donation and suffers from none of the hereditary and congenital diseases.
The procedure for egg donation is pretty simple and straightforward. As we all know, at the end of a menstrual cycle, an egg matures. To suppress this process hormones are given to the donor, once this is done, a second cycle of hormones are registered to increase the rate of maturation of eggs in the donor. Egg Donation requires multiple mature eggs to increase the probability of egg fertilization. Once the required number of eggs has been produced, a final dose of drugs are given to help the eggs fertilize.
The things one needs to know about to know about egg donation is that it comes with basically none of the long term risks. Risks, if any, which come with egg donation are short term and minimum. Some women experience abdominal pains similar to that of periods. There might be chances of bleeding or pelvic infection but those are less than 1%.
We can conclude that the noble task of egg donation; not only helps those in need to fertilized eggs but also comes with none of the risks and side-effects.